Cinnamon Cove - Fort Myers, Florida 33908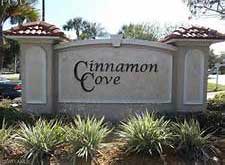 Cinnamon Cove is one of the private, adult communities established in the southern part of Fort Myers. It is a social community best suited for retirement living.
This community has 770 homes within that were built between 1981 and 1992. This community includes single-family homes, villas, and terraced condominium units with lake views. There are more than a dozen neighborhoods within Cinnamon Covers, and the majority of these neighborhoods are 55 plus communities, while a few have no age restrictions.
The condos range from 931 to 1,057 square feet of living space; the 30-unit condo buildings overlook one of three lakes in the community. Each condo building unit has two bedrooms, two bathrooms, an elevator, covered parking, storage space, and a lanai. Pricing for the condos range from the low $100s to the high $100s.
There are two types of villas in this community: The Garden Villas and the Pool Villas. These villas have a pool or garden surrounding the complex. In terms of size. The villas are two bedrooms with two bathrooms, covered parking, and storage units. If you're looking for more privacy, the villas are a great spot with the same low-maintenance lifestyle of a condo. Pricing for the villas range from mid $100s to mid $200s.
The single-family homes range from 1.356 square feet to 1,833 square feet in living space. All homes are two to three bedrooms in sizes with a two-car garage, lanai, and eat-in kitchen. Pricing for the single-family homes range from low $200s to mid $300s.
Association fees cover: pool, yard and outdoor areas maintenance. Cinnamon Cove is all about making sure their residents have a maintenance-free lifestyle.
Amenities
Cinnamon Cove has a clubhouse director who oversees the recreation and entertainment within the community. Activities and amenities include: water aerobics, core exercise classes, a fitness center, table tennis, two tennis courts, two pickleball courts, two bocce ball courts, six shuffleboard courts, ballroom, billiards, 10 outdoor pools, outdoor spa, meeting rooms, outdoor patio, picnic tables, BBQ area, walking and biking trails, a fishing pier, three fishing lakes, a screened pavilion, and more.
Clubs, groups, classes, and other activities within the community include: bingo, bible study, dancing, dominoes, poker, movies, golf, chess club, board games, sewing guild, water Zumba, book club, cards, photography club, cribbage, seminars, and more.
The clubhouse director coordinates excursions to Fort Myers beaches, concerts, and restaurant, as well as other planned events.
Location
Cinnamon Cove is just north of San Carlos Boulevard and Summerlin Road in Fort Myers, and is just west of I-75. Cinnamon Cove is just few miles away from the beautiful beaches of Fort Myers and the Sanibel Island Causeway. Health facilities are important for adults and Cinnamon Cove is near the Healthpark Medical Center. Active adults will love this community with its location near almost every important destination like beaches, malls, restaurants, transportation means, and health institutions. The Fort Myers Beach Trolley has two bus stops right outside both of Cinnamon Cove's gates; this trolley can easily bring residents to beaches, the airport, and other stores.